Latest posts from Dr. Marie's blog...
Propylene Glycol and Cats

If you find this information useful, please spread the word by sharing this on Facebook with your friends or Tweeting this article.
Proplyene Glycol is an additive that is present in many dog foods to help with moisture content. In dog food it is an acceptable ingredient that the FDA considers as "generally safe". If propylene glycol was present in high levels in dog food it could be toxic, however.
Propylene Glycol is used in food to accomplish several things:
To absorb extra water and help keep food moist.
As a solvent for colors and flavors in the food.
Why is propylene glycol not used in cat food?
While dogs and humans can tolerate small amounts of propylene glycol in their diet, cats cannot. Cats are extremely sensitive to this chemical!
Small amounts of propylene glycol ingestion in cats can cause something called Heinz body anemia. This is the same type of problem that happens when a cat ingests too much onion or garlic. Here is a simple view of what a Heinz body is: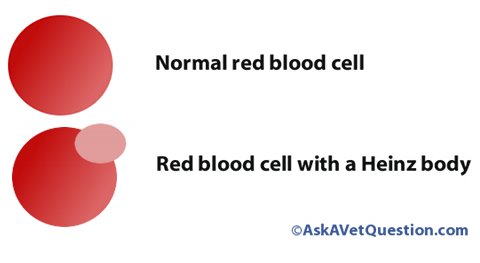 The extra little dot on the red blood cell membrane is a clump of protein. We are not exactly sure why Heinz bodies on red blood cells cause anemia1. But, it is believed that a red blood cell containing Heinz bodies is much more fragile than a regular red blood cell and therefore, can be easily destroyed within the body.
As more and more toxin is absorbed, the body makes more abnormal red blood cells. If too many red blood cells get destroyed, then the result is anemia, which means that the red blood cell level is too low. If anemia gets severe enough it can be life threatening.
A study2 done in 1992 found that the more propylene glycol that is in a cat's food, the more red blood cell damage there is.
As a result, in 1996, guidelines were changed so that
no propylene glycol at all
was allowed in cat food
3
.
Related
Chicken Jerky problems in dogs
: Some brands of chicken jerky were found to have undeclared propylene glycol.
VitaKitty Recall because of propylene glycol in cat food.
In most cases, once the toxin (i.e. propylene glycol) is removed from the pet's diet, then the body can start to make new, healthy red blood cells again and the pet can return to a completely healthy state.
References
1. Erythrocyte pathology and mechanisms of Heinz body-mediated hemolysis in cats.

2. Hematological alterations in kittens induced by 6 and 12% dietary propylene glycol.

3. FDA - Pet Food labels - general.
Search Ask A Vet Question:

Popular questions...
Shih Tzu not eating. He stopped eating 6 days ago. Yesterday the vet said temperature, fecal, urine,... (32293 views)
Is this lump cancer? I noticed yesterday that my babe has a lump about the size of a kiwi on her bottom... (15733 views)
PNST in a dog. My Jack Russell (8 years old) was just diagnosed with a PNST. Which was discovered... (12801 views)
Painful defecation. Hello again Dr. Marie I had contacted you just awhile ago about my cat Linus and... (5458 views)
Vaccine squirted onto skin. OK... I have a Maltese and yorkie that I was giving their second vaccine 5 in 1, and... (23451 views)
Trouble breathing My 12 year old golden retriever was diagnosed with an enlarged heart and a "5"... (12119 views)
Double dose Metacam. We accidently gave our dog two doses of metacam. He is 80 pounds. We give him 1.5... (48027 views)
Gave meds to early. Hi Dr. Marie, We are away from home this weekend and our pet sitter came early... (10548 views)
Pug died suddenly. Aloha, Our beloved Pug Tobi passed away unexpectedly on Wednesday and as much as I... (8995 views)
Gray spot near a dog's penis. My dog has gray spot on the bottom by his penis is this normal? He never had them... (12004 views)
See all questions...