Latest posts from Dr. Marie's blog...
Dr. Marie recommends:
SAVE MONEY ON VET BILLS!
Hi, I'm veterinarian, Dr. Marie.
I'd like to share with you 75 practical tips that will save you money on your vet bills.
Some of these veterinary tips include:
A less expensive alternative to the arthritis medications Metacam, Rimadyl, and Deramaxx
The pros and cons of ordering prescription medications online
Products that you should not buy from your veterinarian
How to save money if your pet needs a surgery
What questions to ask when phoning around for veterinary estimates
Great money saving tips for owners of pets with diabetes, cushing's disease or addison's disease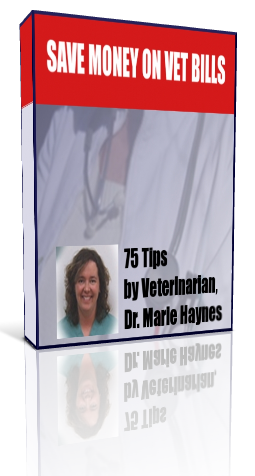 The book contains over 100 pages of money saving tips!
You can purchase this book for $2.99
Most people who purchase this book will save hundreds of dollars on their vet visits as a result of these money saving tips.

I am so convinced that you will benefit from this book that I am offering a 100% no questions asked money back guarantee
You have nothing to lose!
Start saving on your vet bills now!