Symptoms of an ear infection

If you find this information useful, please spread the word by sharing this on Facebook with your friends or Tweeting this article.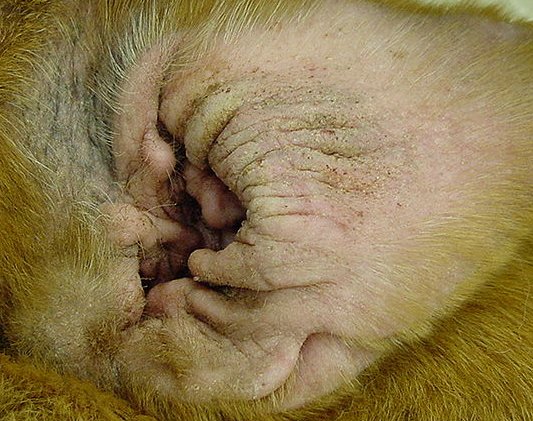 Most dogs or cats with an ear infection will have one or more of the following symptoms:
Red, irritated ear
An increased buildup of wax
A discharge that is either brown, yellow or black
Scratching at the ear
Pain when the ear is touched
Odor coming from the ear
There are other things that can cause ear problems as well such as ear mites, sarcoptic mange, immune system diseases and other problems.
Many dogs with recurrent ear infections have underlying allergies either to food or to environmental factors such as ragweed. Some dogs with recurrent ear infections may have hypothyroidism.
What can you do?
Ear infections are usually quite uncomfortable and should always be treated by a veterinarian. Some mild infections will benefit from being cleaned with an over the counter ear cleaner. Similarly, you can use a mixture of 50:50 vinegar:water. However, this can be irritating if there are any open sores in the ear.
If the infection comes back again after cleaning then your dog or cat will need prescription medicines to clear this up.
Search Ask A Vet Question:
Popular questions...
Charcoal briquette My Yorkie, male-6 pounds, was in the garden where my husband threw burn,... (29932 views)
Peeing outside of box. My cat is spayed female,indoor/outdoor as she wishes. She will defecate in litter... (5335 views)
Sores around vulva. Hi Dr. Marie, I would like a second opinion on my dog's health issue. She is a 4... (50621 views)
How to make cat urinate. is there something we can put in her food to make her... (5978 views)
High ALT in a dog. Autumn went to the vet on Sept 29, 2013 with a problem jumping and walking on... (10481 views)
Floppy ear in German Shepherd. Hello my name is nick and i have a purebred west german shepherd from working lines.... (17590 views)
Cat died. Dear Doctor Haynes, I started looking after a stray young tomcat (who I presume... (4402 views)
Brain tumor or epilepsy? Hi Dr. Marie I have a yellow lab named Sam He experienced seizures twice... (8361 views)
Cat straining and in pain. Last night, my cat began meowing as if she was about to vomit but was acting as if... (20873 views)
Painful dog. I apologize in advance for this being so long, but I want to give the history so you... (6226 views)
See all questions...
Dr. Marie was quick to respond and thorough in suggesting treatment for my cat. I am so thankful- I have been so worried about my cat. Now I have additional options to discuss with my vet.
The service was incredibly fast and the vet's suggestions were right on target. This was incredibly helpful given that none of the vets in my area, mine now included, will take off hours calls now.