Symptoms of an ear infection

If you find this information useful, please spread the word by sharing this on Facebook with your friends or Tweeting this article.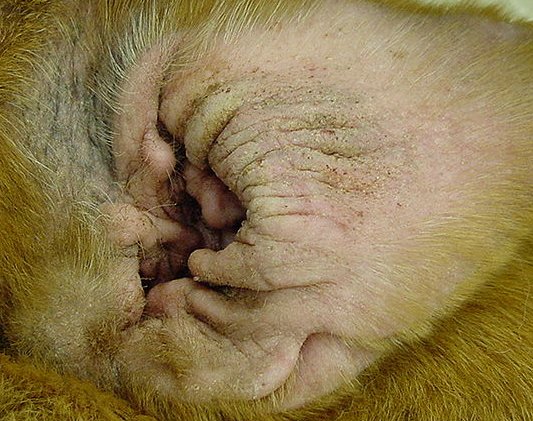 Most dogs or cats with an ear infection will have one or more of the following symptoms:
Red, irritated ear
An increased buildup of wax
A discharge that is either brown, yellow or black
Scratching at the ear
Pain when the ear is touched
Odor coming from the ear
There are other things that can cause ear problems as well such as ear mites, sarcoptic mange, immune system diseases and other problems.
Many dogs with recurrent ear infections have underlying allergies either to food or to environmental factors such as ragweed. Some dogs with recurrent ear infections may have hypothyroidism.
What can you do?
Ear infections are usually quite uncomfortable and should always be treated by a veterinarian. Some mild infections will benefit from being cleaned with an over the counter ear cleaner. Similarly, you can use a mixture of 50:50 vinegar:water. However, this can be irritating if there are any open sores in the ear.
If the infection comes back again after cleaning then your dog or cat will need prescription medicines to clear this up.
Search Ask A Vet Question:
Popular questions...
Dog is vomiting again. Hi Dr. Marie, Last Tuesday (Dec 6) I came home and Max had vomitted up some bile... (8170 views)
Flaky skin. Samson has flakey skin that is most obvious on his back toward the tail and under... (13961 views)
Clavamox drops out of fridge. Hey Doc...Sparky was put on Clavamox drops because he has an abscess. The vet... (37674 views)
Dog ate raisins. My 16lb. 10 month old beagle ate about 20-25 raisins yesterday at approx. 6pm and we... (119615 views)
Sneezing cat. We have adopted a feral cat off the back porch in November. We think she is about 2... (10131 views)
Chihuahua with loose teeth. My Chihuahua's teeth are starting to get very loose. She is only two years old,... (9852 views)
Cat suddenly bites or scratches. Hi there....i have a beautiful BIG moggy who is a 'lovecat' - very affectionate -... (10832 views)
Hamster is dying. My hamster is 2 years and 11 months now . I noticed he hasnt been drinking as much ,... (6513 views)
Wheezing, sneezing kitten. my kitten is 3 and a half months old recently she has been sleeping a whole lot and... (9868 views)
Lumps on dog's neck. My dog keeps getting small red lumps on his body especially over the back of his... (9346 views)
See all questions...
Dr. Marie was quick to respond and thorough in suggesting treatment for my cat. I am so thankful- I have been so worried about my cat. Now I have additional options to discuss with my vet.
The service was incredibly fast and the vet's suggestions were right on target. This was incredibly helpful given that none of the vets in my area, mine now included, will take off hours calls now.