Symptoms of an ear infection

If you find this information useful, please spread the word by sharing this on Facebook with your friends or Tweeting this article.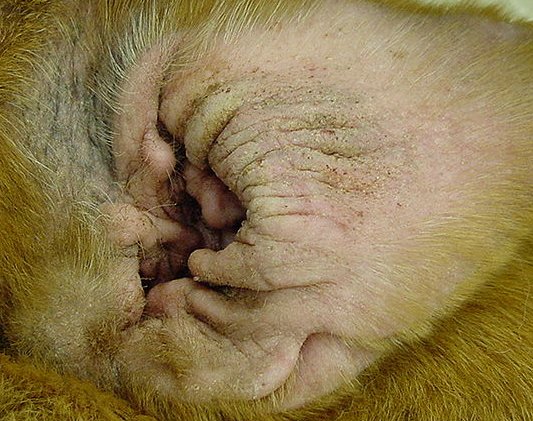 Most dogs or cats with an ear infection will have one or more of the following symptoms:
Red, irritated ear
An increased buildup of wax
A discharge that is either brown, yellow or black
Scratching at the ear
Pain when the ear is touched
Odor coming from the ear
There are other things that can cause ear problems as well such as ear mites, sarcoptic mange, immune system diseases and other problems.
Many dogs with recurrent ear infections have underlying allergies either to food or to environmental factors such as ragweed. Some dogs with recurrent ear infections may have hypothyroidism.
What can you do?
Ear infections are usually quite uncomfortable and should always be treated by a veterinarian. Some mild infections will benefit from being cleaned with an over the counter ear cleaner. Similarly, you can use a mixture of 50:50 vinegar:water. However, this can be irritating if there are any open sores in the ear.
If the infection comes back again after cleaning then your dog or cat will need prescription medicines to clear this up.
Search Ask A Vet Question:
Popular questions...
Feral cat with problems. There is a a trio of feral cats that we have been feeding, and over the last few... (13578 views)
Mass in cat's chest? Hello, My cat, a sterilized indoor-living Japanese Bobtail, is now 4 years old... (21003 views)
Pitbull with breathing problems. My daughter rescued a pit bull a few years ago. He has been an amazing dog. However,... (14288 views)
Chronic diarrhea. Hi, My 2 1/2 year old Siberian has had chronic diarrhea for the past 4 weeks.... (13151 views)
Skin lesions on dog's face. HI, my Chikita has been having some skin trouble and cant exactly figure out what it... (6315 views)
Does Hartz kill roundworms? well, this one time when I had a lab mix puppy that wasn't vetted or wormed or... (11064 views)
Dog eats my underwear. This is going to sound weird but this is a real question. My dog keeps licking mine... (41976 views)
Myasthenia gravis I am grieving the loss of my beloved companion who was euthanized on May 18, 2011.... (22359 views)
Dog with large tumor on neck. My Dog Re has a large Growth on hes neck, we live 100kms from any vet so with hes... (38205 views)
Hair loss and black skin. my 15 yr old pomeranian is losing hair in the middle of her back. it just now... (10391 views)
See all questions...
Dr. Marie was quick to respond and thorough in suggesting treatment for my cat. I am so thankful- I have been so worried about my cat. Now I have additional options to discuss with my vet.
The service was incredibly fast and the vet's suggestions were right on target. This was incredibly helpful given that none of the vets in my area, mine now included, will take off hours calls now.