Symptoms of an ear infection

If you find this information useful, please spread the word by sharing this on Facebook with your friends or Tweeting this article.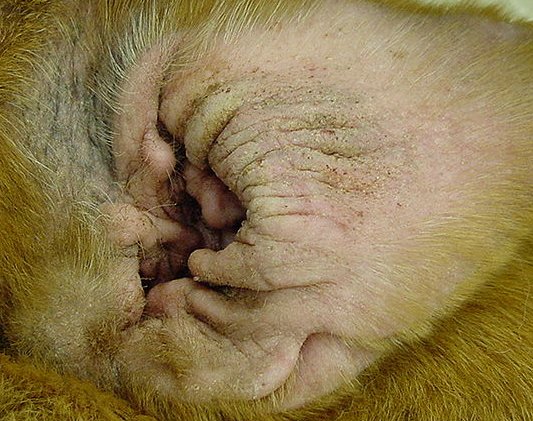 Most dogs or cats with an ear infection will have one or more of the following symptoms:
Red, irritated ear
An increased buildup of wax
A discharge that is either brown, yellow or black
Scratching at the ear
Pain when the ear is touched
Odor coming from the ear
There are other things that can cause ear problems as well such as ear mites, sarcoptic mange, immune system diseases and other problems.
Many dogs with recurrent ear infections have underlying allergies either to food or to environmental factors such as ragweed. Some dogs with recurrent ear infections may have hypothyroidism.
What can you do?
Ear infections are usually quite uncomfortable and should always be treated by a veterinarian. Some mild infections will benefit from being cleaned with an over the counter ear cleaner. Similarly, you can use a mixture of 50:50 vinegar:water. However, this can be irritating if there are any open sores in the ear.
If the infection comes back again after cleaning then your dog or cat will need prescription medicines to clear this up.
Search Ask A Vet Question:
Popular questions...
Puppy vomited and became unresponsive. My puppy violet was out on her walk this afternoon and she started dry reaching and... (8450 views)
Sick guinea pig. hello, i need help. my guinea pig peppy is really dehydrated and really weak, today... (12415 views)
Guinea Pig heat cycle. my female guinea pig has a swollen vulva which is very red. this happens once every... (31796 views)
German Shepherd not eating. I have a 13 year old female german shepherd. She is currently taking Proin and... (14237 views)
Kennel Cough. Hello I am only 16 and my parents do not believe me on my concern for my dog. I do... (6040 views)
Dog coughing. We let our dog do her business in the backyard. However, we are currently in the... (48623 views)
When to put down older dog. I know my dog is on the way out, she has cataracts, hearing is dim, legs are shaky,... (6323 views)
Dog is shaking I can't afford to bring my dog to the vet. I would like to know my dog has a lack of... (82622 views)
1 month puppy can't poop. She has been constipated for 3 days. We have put half tsp. olive oil in food, giving... (13992 views)
Cat with bald belly. Our cat (6 years old) has bitten off the hair on her stomach. Our vet (in Latvia)... (12327 views)
See all questions...
Dr. Marie was quick to respond and thorough in suggesting treatment for my cat. I am so thankful- I have been so worried about my cat. Now I have additional options to discuss with my vet.
The service was incredibly fast and the vet's suggestions were right on target. This was incredibly helpful given that none of the vets in my area, mine now included, will take off hours calls now.