Symptoms of an ear infection

If you find this information useful, please spread the word by sharing this on Facebook with your friends or Tweeting this article.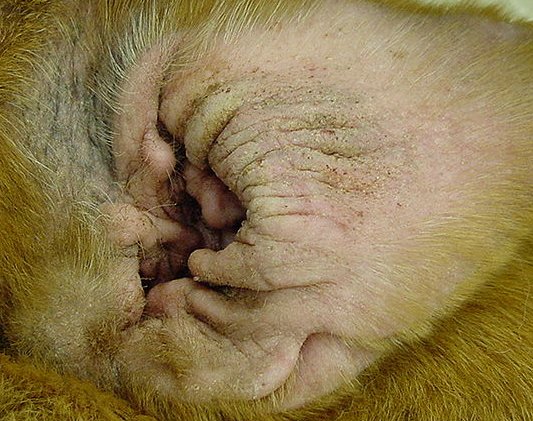 Most dogs or cats with an ear infection will have one or more of the following symptoms:
Red, irritated ear
An increased buildup of wax
A discharge that is either brown, yellow or black
Scratching at the ear
Pain when the ear is touched
Odor coming from the ear
There are other things that can cause ear problems as well such as ear mites, sarcoptic mange, immune system diseases and other problems.
Many dogs with recurrent ear infections have underlying allergies either to food or to environmental factors such as ragweed. Some dogs with recurrent ear infections may have hypothyroidism.
What can you do?
Ear infections are usually quite uncomfortable and should always be treated by a veterinarian. Some mild infections will benefit from being cleaned with an over the counter ear cleaner. Similarly, you can use a mixture of 50:50 vinegar:water. However, this can be irritating if there are any open sores in the ear.
If the infection comes back again after cleaning then your dog or cat will need prescription medicines to clear this up.
Search Ask A Vet Question:
Popular questions...
Cerenia and FIP. Holly was diagnosed with the Corona Virus when she was only a few months old. It... (4039 views)
Black sore near anus. Hello Dr.Marie (I am SO grateful for you!), I have had my two dogs (same breeder)... (32075 views)
Urinating in house. Our cat Alice was involved in a fight in the garden with another cat. SHe had a sore... (7371 views)
Human medicine for cats? Dear Whom ever it concerns, Hi my name is Lindsey. I got this stray cat 3-4 months... (9706 views)
Hind end paralysis. I put my beautiful, loyal companion to sleep on Christmas day. The guilt is... (3970 views)
Peeing orange and losing weight. I have a village dog, I think he is dying, I don't know what to do. I always feed... (12036 views)
Lung problem in dog. Our cuddly Walter had "kennel cough" several times throughout his life (about 5),... (4284 views)
Ear infection. last year my dog came home with an infection after being groomed. she has been on 4... (16072 views)
Worms in kittens. Hey there, I just got two 9 week old kittens. They have had their shots but they... (50928 views)
Possible diabetes My cat is very thirsty, he will run to the bathroom counter for a drink of water, he... (5672 views)
See all questions...
Dr. Marie was quick to respond and thorough in suggesting treatment for my cat. I am so thankful- I have been so worried about my cat. Now I have additional options to discuss with my vet.
The service was incredibly fast and the vet's suggestions were right on target. This was incredibly helpful given that none of the vets in my area, mine now included, will take off hours calls now.