Symptoms of an ear infection

If you find this information useful, please spread the word by sharing this on Facebook with your friends or Tweeting this article.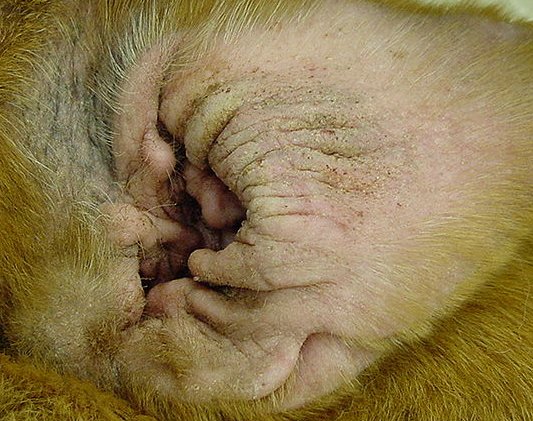 Most dogs or cats with an ear infection will have one or more of the following symptoms:
Red, irritated ear
An increased buildup of wax
A discharge that is either brown, yellow or black
Scratching at the ear
Pain when the ear is touched
Odor coming from the ear
There are other things that can cause ear problems as well such as ear mites, sarcoptic mange, immune system diseases and other problems.
Many dogs with recurrent ear infections have underlying allergies either to food or to environmental factors such as ragweed. Some dogs with recurrent ear infections may have hypothyroidism.
What can you do?
Ear infections are usually quite uncomfortable and should always be treated by a veterinarian. Some mild infections will benefit from being cleaned with an over the counter ear cleaner. Similarly, you can use a mixture of 50:50 vinegar:water. However, this can be irritating if there are any open sores in the ear.
If the infection comes back again after cleaning then your dog or cat will need prescription medicines to clear this up.
Search Ask A Vet Question:
Popular questions...
Trifexis overdose. My approx 4-5lb teacup Pomeranian ate HALF of the Trifexis meant for a 60-120lb dog... (5017 views)
Why do cats lick plastic? I have a 2 year old Himalayan Cat named Felix. He will be 3 in April. He drives me... (26178 views)
Sneezing, vomiting, coughing. my cat is sneezing vomiting coughing breathing through his mouth and has hard... (22499 views)
Euthanize aggressive dog? I adopted my dog Nubby a year ago from a local shelter. A few months after I adopted... (29430 views)
Red dots on dog's abdomen. Hello. My dog Biscuit has been having red dots like skin under his abdominal. It... (5324 views)
Why did my dog die? I had a 6 yr old lab mix. November 2010 he started becoming lethargic, limping... (7518 views)
High ALKP and bile acids. Hi Dr. Marie I value your opinion so much and I do respect and understand that... (16500 views)
Liver infections in cat. My 13 year old cat has had at least 3 serious, life threatening liver infections... (6919 views)
Swollen hip. I am so worried about my dog Holly. I think she may have hip dysplasia. Her hip is... (10155 views)
Popcorn in dog's stool? My dog had something that looked like a popped popcorn kernel at the end of his... (12347 views)
See all questions...
Dr. Marie was quick to respond and thorough in suggesting treatment for my cat. I am so thankful- I have been so worried about my cat. Now I have additional options to discuss with my vet.
The service was incredibly fast and the vet's suggestions were right on target. This was incredibly helpful given that none of the vets in my area, mine now included, will take off hours calls now.